Breakfast is the most important meal of the day, or so they say. Whatever we may think, breakfast IS crucial for growing children who are heading to school for a day of non-stop learning.
As parents, we care about what our kid eats, and the fact that she eats what is nutritious. We know that breakfast menus can be complicated, so we have come up with five easy to make, healthy breakfast ideas just for you.
French Toast Bowls
A bowl of cereal every day is too dull for our kiddo, and she complains endlessly about how she hates cornflakes with strawberries. So this is our alternative during the weekends.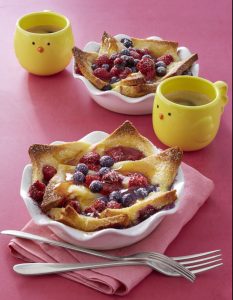 Serves: 8
Ingredients:
3 ½ tbsp. unsalted butter (at room temperature) and 2 tbsp. for the pan
500 ml whole milk (you can swap it for skimmed milk)
4 large eggs
65g sugar
2 tsp. pure vanilla extract
½ tsp salt
12 slices white sandwich bread (you can trade for whole grain bread)
400g small raspberries
400g small blueberries
Directions:
Heat oven to 175 degrees Celsius.
Prepare four oven-safe soup bowls or baking dishes with butter
Whisk the milk, eggs, sugar, vanilla and salt in a large bowl
Cut out the crusts of the bread, and spread butter on one side of each slice. Cut the slices in half to make two triangles.
Arrange 4-5 pieces of bread, butter side up around the bowl. Top it with berries and repeat the process, making sure to keep the bread around the edge.
Pour the custard mixture over the bread and berries (about 60ml per dish).
Place the bowls on a rimmed baking sheet and cover them loosely with foil.
Bake the dishes for 20 minutes, uncover the foil, and continue baking for another 30-35 minutes more until the custard sets and the bread is lightly golden brown.

Smoothie Bowls
Smoothie Bowls are perfect for busy, hectic mornings. They are easy to make, and our daughter loves them to bits. We try to use different fruits to create a variety. The recipe below is for one of our family's favourite.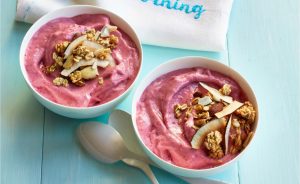 Serve: 2
Ingredients:
250g frozen raspberries
2 large bananas
110g non-fat Greek yoghurt
1 tbsp. chia seeds (optional)
170g low-fat milk
Granola, for serving
Toasted coconut shavings, for serving
Direction:
Puree the raspberries, bananas, yoghurt, chia seeds (if using) and milk until smooth.
Divide the smoothie into two bowls and top with granola and toasted coconut shavings.
You can make this with almost any fruits. We have tried this with strawberries, mangoes and blueberries. They work out well too.

Egg Sandwich
Egg sandwiches are great for a protein-packed breakfast. What's more important is the quick way to create this delicious meal on a time-limited morning.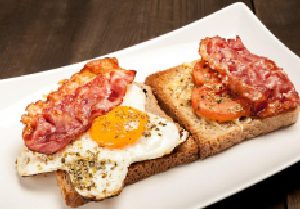 Serves: 2

Ingredients:
2 large eggs
1 tbsp. finely chopped dill
1 tbsp. finely chopped chives
salt
black pepper
2 toasted English Muffins (you can swap it for gourmet burgers too)
2 slices Cheddar
1 mid-sized tomato, sliced
Directions:
Put the eggs in a bowl. Add the herbs, a pinch of salt and pepper before whisking the mixture with a fork to combine. Divide the ready mixture into 2 x 200g microwave-safe cups and microwave them on high until they are cooked. The eggs will expand once cooked so make sure your cups are big enough.
Pile in the eggs, cheddar and tomato on the English muffins and you are ready to serve.

Bacon and Eggs
Bacon and Eggs is a great way to entice your kiddos to eat their vegetables and gain a balanced diet for breakfast. Importantly, you can make it beforehand and just heat it up in the morning.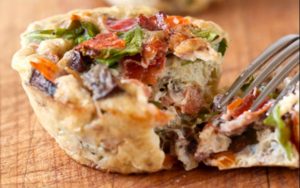 Serves: 6
Ingredients:
9 large eggs
500g bacon
1 tomato
2 green onions (scallions)
85g diced mushrooms
1 tbsp. fresh thyme
Directions:
Preheat oven to 190 degrees Celsius. Using a large bowl, gently beat the eggs. Stir in bacon, tomato, green onions, mushrooms and thyme. Add a pinch of salt and pepper to taste.
Divide mixture into 12 medium-sized muffin tins and bake until set. It takes around 20 minutes. Let cool for 5 minutes before serving. If you are cooking in advance, make sure that the bacon and eggs are completely cooled before storing them in an airtight container and put them in the fridge. Heat them up in the microwave when you want to eat them.

Strawberry-Coconut Scones

If you are a fan of breakfast scones because you think they are full of delicious goodness, here's one recipe for you.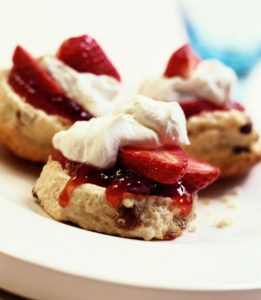 Serves: 8
Ingredients:
420g all-purpose flour
85g sweetened flaked coconut
32g sugar
1 tbsp. baking powder
1 tbsp. grated lemon peel
½ tsp. salt
255g heavy cream
2 large eggs
1 pack of strawberries
2 tbsp. sugar
Directions
Heat oven to 190 degrees Celsius. Coat a large baking sheet with non-stick spray
Mix the first six ingredients in a large bowl.
In a small bowl, use a fork to blend the heavy cream and eggs.
Pour the cream and eggs mixture into the flour mixture, add strawberries and stir until mixed and dough clumps together.
Scrape the batter into the centre of the baking sheet
Put the dough and the baking sheet into a 9-inch round baking tin and sprinkle the 2 tbsp. sugar on top
Coat a long knife with non-stick spray and cut the dough into 8 wedges. Do not separate them.
Bake the dough for 30 to 35 minutes until puffed and browned. Check the centre of the tin with a wooden pick and make sure it comes out clean.
Once cooked, recut the wedges and serve immediately. Alternatively, you can store them in airtight containers and serve them later.